A funny thing happened last night…..
When I got off work, I headed to the grocery store for some items I needed to make dinner for a friend of ours that we were seeing later that night.
I grabbed the handful of items and scurried back to the condo to pull together a quick meal.
As I got off the elevator and turned the corner, I saw a flat-ish, rectangular box propped up agianst the door…as I got closer, I noticed the box was an All-Clad box. I checked the label and it was addressed to me. However, I had not ordered anything.
The box had a picture of this on it: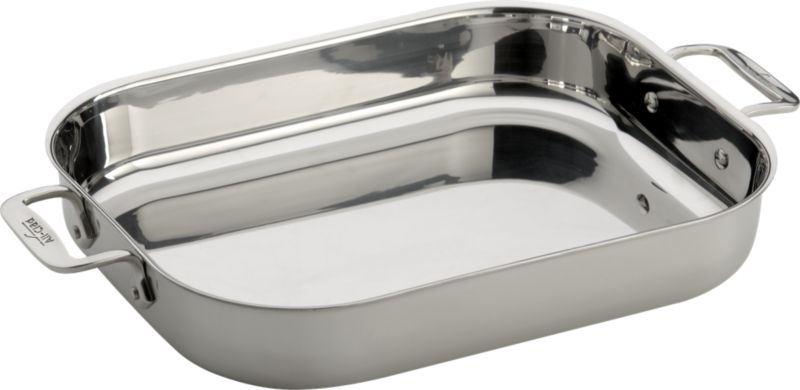 Yes, that would be the All-Clad Stainless Gourmet 12 x 15-in. Lasagna Pan.
I thought maybe it was a Christmas present Paul ordered for me, but came late….so I called him, but of course he didn't answer! So I had to let it sit there till he got home.  He assured me that he did NOT buy this for me (if I were him, I would have taken the credit…but whatever).
We racked our brains a bit, and then I found a note inside the box (that I read about 45 minutes later, after I stopped carressing the pan and talking to it in a baby voice).  It turns out that when Paul bought me this:
There was a rebate for this:
A cast aluminum Au Gratin pan.  So we filled out the rebate and sent it in….back in AUGUST.  And just the other day I was thinking, "what ever happened with that?"
As it turns out, the company had such a great response to the rebate, they ran out of the Au Gratin pans. FINE BY ME! I'll get WAYYYYYYYYYYYY more use out of the lasagna pan: it's bigger, wider, and just as shiny as could be.
I can't wait to make something in it and get it all stained and cheesy……MMMMMMMM. Now I'm hungry!